Cast aside the worries of a paint match with our paintless dent repair process and expertise.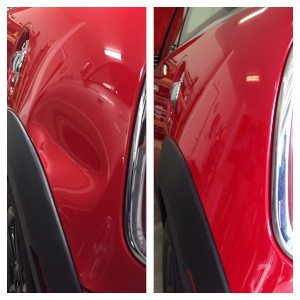 The standard way to deal with a dent involves making an appointment at an auto body shop, leaving your vehicle for several hours or even longer, and hoping they'll match the paint right. That last part is the trickiest because even if they have the exact paint from the manufacturer, if your vehicle is more than a few weeks old, the color may not be the same anymore due to the effects of ultraviolet (UV) rays. A better solution, which also turns out to be a time saver, is our paintless dent repair service here at Interstate Dent Company.
You'll save time because we can accomplish our paintless dent repair process in under an hour, in most cases, and we come to you wherever you are in the Angier, North Carolina area, saving you even more time. When you contact us for a custom quote by sending us a photo of the dent via chat or text, we provide you with the price and how long we estimate it will take to complete your paintless dent repair.
You should also know that paintless dent repair isn't just about using the innovative equipment for the task. There is a skill component involved that we have finely tuned since we began in 1998. We are proud of the results that we can accomplish, and you'll agree when your vehicle looks like brand new again. Nobody will ever know you had a dent, so it won't hurt the value of your vehicle.
If paintless dent repair makes sense to you for your personal vehicle or as the manager in charge of a lot full of vehicles, give us a call to learn more about our company and what we have to offer. We are confident you'll turn to us for every door ding or other dent that happens because you'll know we'll treat you right!
---
At Interstate Dent Company, we offer paintless dent repair services to residents of Fuquay-Varina, Raleigh, Angier, Apex, Cary, Chapel Hill, Clinton, Coats, Dunn, Durham, Fayetteville, Garner, Holly Springs, Lillington, Morrisville, Smithfield, Spring Lake, Wake Forest, Wendell, Willow Spring, Wilson, and Zebulon, North Carolina.