It doesn't get more convenient to restore your vehicle than with our mobile dent repair service.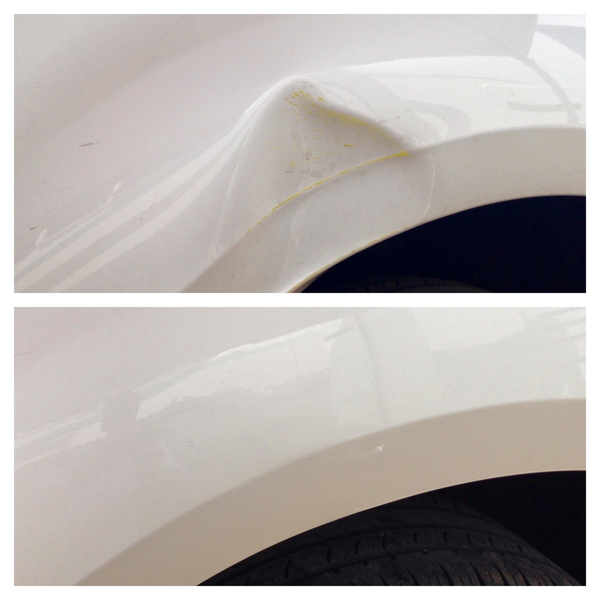 Realizing you just managed to put a dent in your vehicle, or even worse, a friend or family member's vehicle, can put a king-size lump in your throat. Compound that with too little free time to head to a local body shop and sit around while they make the repair and you have a situation that we can help you with. At Interstate Dent Company, our mobile dent repair gets you out of a jam. We can resolve most dents in less than an hour, whether your vehicle is at your home, your place of employment, or you've returned a borrowed vehicle to its owner with the promise we'll take care of it with our mobile dent repair service.
We also provide our mobile dent repair service for car dealerships (new and used cars) when unexpected dents happen during test drives or because of inclement weather. Even if you have a maintenance crew, it can be helpful to work with a professional that delivers perfect results in less time. Our innovative approach is appreciated even by auto body shops that want to concentrate on complex matters and leave the dents to us.
Another benefit of our mobile dent repair is that you can get a custom quote before taking an hour or more of your time. Instead of driving to an auto body shop and waiting for an estimate, just upload a photo of the dent to us via text or our online chat feature. We'll give you a quote for the work and let you know how long it should take once our mobile dent repair service vehicle gets to your location.
If you have any questions about mobile dent repair with service in the Angier, North Carolina area, don't hesitate to contact us.
---
At Interstate Dent Company, we offer mobile dent repair services to residents of Fuquay-Varina, Raleigh, Angier, Apex, Cary, Chapel Hill, Clinton, Coats, Dunn, Durham, Fayetteville, Garner, Holly Springs, Lillington, Morrisville, Smithfield, Spring Lake, Wake Forest, Wendell, Willow Spring, Wilson, and Zebulon, North Carolina.
Similar Services We Offer: