Our paintless dent repair services will make that dent unnoticeable without sanding and painting your vehicle.
If you have been putting off dent repair because you fear the body shop won't be able to match the color right or will take days to finish your vehicle, here at Interstate Dent Company, we have a better solution for you. Our paintless dent repair service will restore your vehicle with no sanding or painting needed. We use industry-specific tools to go behind the metal to push the dents out so you'd never know they were there.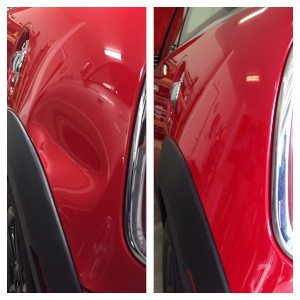 Our paintless dent repair is done at your location, be that your home, office, parking lot, or wherever in the Holly Springs, North Carolina area you might be. Instead of putting it off, call us and get it taken care of at a lower cost than conventional body shop repair. If you'd like an idea of the time it will take or the cost, you can request a custom quote. Just upload a picture of the dent or ding using our online chat feature or text it to us. We'll provide you with a quote usually on the same business day and let you know when we can perform your paintless dent repair.
We have been doing paintless dent repair since 1998 and have become very skilled and talented. Whether you have one small ding or got caught in a hailstorm, we are confident we can restore your vehicle. Most paintless dent repairs can be done in less than an hour while you wait, but we're happy to give you a better idea when we give you your custom quote. Contact us today to learn more.
FAQs About Paintless Dent Repair
Paintless dent repair is one of the best options when your vehicle has a dent and you want to save time and money while repairs are being done. We recognize that paintless dent repair may be new to you, so we have provided answers to some frequently asked questions below. As always, you are welcome to contact us if you have other questions, and we'll be glad to provide the clarification you are looking for.
Does paintless dent repair work for all dents?
Unfortunately, no. Paintless dent repair is useful only if the dent isn't too severe, the paint hasn't been chipped or scraped off, and our technicians can access the area behind the dent.
What factors affect the cost of paintless dent repair?
We create estimates based on several factors, such as the size of the dent, where the dent is located on the vehicle, the type of metal your vehicle's body is made of, and whether we need to remove parts of your vehicle temporarily in order to complete repairs.
Do you deal with insurance?
Yes, we work with insurance companies if needed.
Why should I choose you for paintless dent repair?
We have 20 years of experience in dent repair and dent removal, including considerable experience specifically with paintless dent repair. We have the specialized tools and skills we need to remove your dent, so it will look as if it were never there. Plus, we'll do it quickly, so you won't have to be without your vehicle for long.
---
At Interstate Dent Company, we offer paintless dent repair services to residents of Fuquay-Varina, Raleigh, Angier, Apex, Cary, Chapel Hill, Clinton, Coats, Dunn, Durham, Fayetteville, Garner, Holly Springs, Lillington, Morrisville, Smithfield, Spring Lake, Wake Forest, Wendell, Willow Spring, Wilson, and Zebulon, North Carolina.

Similar Services We Offer: