There's no need to stare at that unsightly door ding anymore!
When you are driving in a car that you enjoy and want to keep, it can feel like playing a risky game of chance every time you enter a parking lot! While there are many careful drivers out there who would rather squeeze out of their cars in order to avoid hitting yours, there are others who get out with doors wide open, ding your door, and never look back. Although your doors are meant to withstand other drivers' doors, the occasional collision with a shopping cart, and other minor issues, that doesn't mean a door ding on your car won't bother you, especially if it is one you can see easily. Here at Interstate Dent Company, we want to help you enjoy the look of your car with our door ding repair services.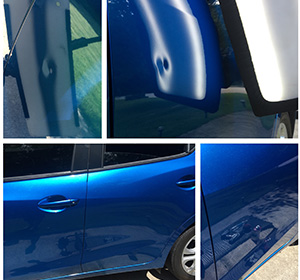 In the area of Raleigh, North Carolina, many people are busy driving to and from places they need to go. Sometimes the thought of adding one more stop to take care of a small door ding repair is more than you can reasonably accomplish in a day. At Interstate Dent Company, we make door ding repairs easy for our customers by ensuring that your door ding repairs are done according to your time frame and as soon as possible, with many of our customers' door ding repairs being done in under an hour. Still can't find the time to come to us? We also offer the option of coming to you with our mobile dent repair services.
If you are stuck with a door ding, contact us at Interstate Dent Company about a door ding repair for your vehicle.
---
At Interstate Dent Company, we offer door ding repair services to residents of Fuquay-Varina, Raleigh, Angier, Apex, Cary, Chapel Hill, Clinton, Coats, Dunn, Durham, Fayetteville, Garner, Holly Springs, Lillington, Morrisville, Smithfield, Spring Lake, Wake Forest, Wendell, Willow Spring, Wilson, and Zebulon, North Carolina.