After the storm passes, if you need auto hail damage repair, contact us at Interstate Dent Company!
In the area of Raleigh, North Carolina, we are fortunate enough to experience a lot of wonderful weather throughout the year. With lush, green lawns and bountiful trees, it's a lovely place to be! All that foliage is due to the plentiful rainfall that we get ever year, which is sometimes accompanied with high-force winds and hail. While it isn't uncommon to see storm and hail damage on homes and trees, many people overlook the fact that if your car is out in a hailstorm, you can experience a need for auto hail damage repairs. At Interstate Dent Company, we want to make your car look slick and smooth once more instead of pitted and dented with our auto hail damage repair service.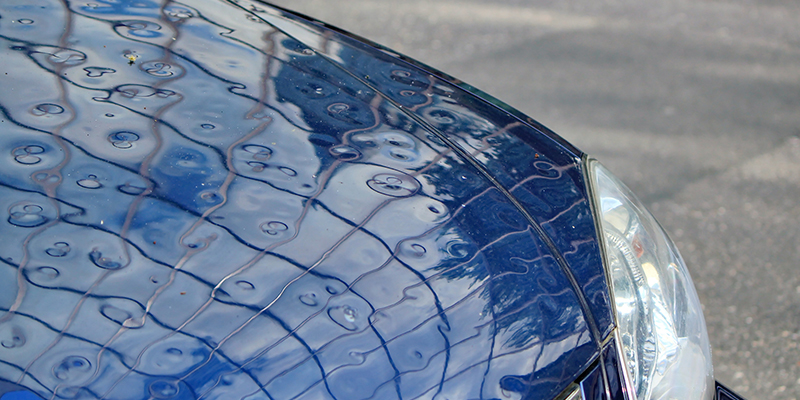 The size of the hail during the storm that damaged your vehicle is often what will determine the severity of the dents in your vehicle. When we come to take a look at your car for auto hail damage repair, we can assess the severity and cost of your repairs. Many people are often surprised to learn that we will let our customers know when a dent will just be a small ding and isn't worth fixing if it doesn't bother them. We enjoy helping our customers save money while also making their car look good, and we know our customers enjoy working with honest auto body experts.
If your car is in need of auto hail damage repair services, please contact us today at Interstate Dent Company, and let's see what we can do for you.
---
At Interstate Dent Company, we offer auto hail damage repair services to residents of Fuquay-Varina, Raleigh, Angier, Apex, Cary, Chapel Hill, Clinton, Coats, Dunn, Durham, Fayetteville, Garner, Holly Springs, Lillington, Morrisville, Smithfield, Spring Lake, Wake Forest, Wendell, Willow Spring, Wilson, and Zebulon, North Carolina.