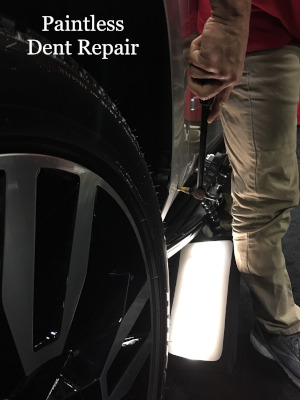 No matter how careful you are with your car, unless it lives only in the garage, you are going to get some dents and some dings! Even good, cautious drivers might fall victim to a careless one. You might even be at work when a hailstorm dings your car with a few well-placed hail stones. Luckily, your car doesn't need to look like it belongs in the scratch and dent section forever with our help at Interstate Dent Company! Because we have been in business for over 25 years, we have one advantage that sets us above and beyond your average dent company — we often are able to do paintless dent repairs.
Paintless dent repairs are a great way to restore your car to its original glory without a lot of extra cost with the repairs of the paint as well. Often, when the paint chips or pops along with the dent, it is the cost of matching and resurfacing the area of the dent that can end up costing more than the dent repair. In addition to much of our dent repairs able to be paintless dent repairs, we are also able to do mobile dent repair, bringing the convenience of dent repairs to your location.
Here at Interstate Dent Company, we would love to tell you more about our paintless dent repair process and how it can benefit your vehicle. If you have questions about our paintless dent repair or mobile dent repair services, please contact us today for more information!