It happened– your car got a dent in it. A dent is bound to happen at some point, but that doesn't mean it's not frustrating. Dents can happen at any time and can ruin the look of your smooth and shiny car. Dents can happen from running into something like a pole, another car, or even the side of your garage. But they can also mysteriously appear when someone hits your car with a shopping cart in the grocery store parking lot or even bumps into your car and drives away.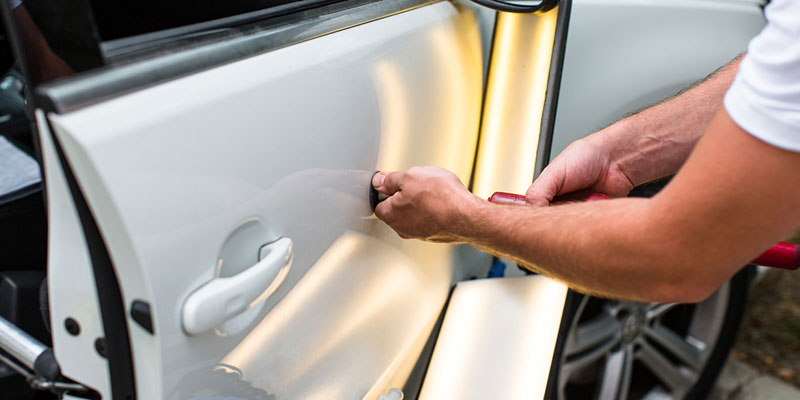 Hailstorms can also cause a lot of damage and dent your car pretty good. You need to get the dents fixed, but you might be hesitant because you don't want your car to have a weird color of paint on one section that doesn't quite match the rest. Painting your entire vehicle for one dent seems like overkill and a waste of money. But what you might not know is that paintless dent repair can ensure you don't have to worry about matching paint or having the paint job look less than stellar.
Paintless dent repair is done with specialized tools that can pull dents and dings from behind the metal, leaving no marks on the paint. If the paint is not scuffed on your dent, there is a great chance that we can do a paintless repair. This method does not require any sanding and does not need any touch-up paint. You can have the dent removed without ruining the finish on your car. It really is the best of both worlds. You won't even be able to tell where the dent was!
Contact us today at Interstate Dent Company if you would like to learn more about paintless dent repair. We will answer all of your questions and can even give you a free custom quote. We have a lot of experience with dent removal, and you can count on us to do a great job.